Alley Cat Allies is dedicated to promoting and expanding humane methods of care for cats and to ending the killing of cats. Through education, advocacy, and action, Alley Cat Allies serves as the leader of the movement to protect and improve the lives of cats nationwide and around the world.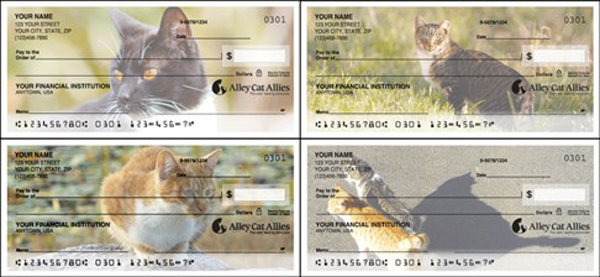 UPDATE: Unfortunately this check series is no longer being offered!
Message!Products has joined the Checks Unlimited family!
Checks Unlimited is a great source for high quality personal checks and while they don't print this specific design, they do have a lot of animal checks to choose from.
---
Alley Cat Allies is the only national advocacy organization dedicated to the protection and humane treatment of cats. An engine for social change, Alley Cat Allies was the first organization to introduce and advocate for humane methods of feral cat care, particularly Trap-Neuter-Return, in the American animal protection community. Learn more AlleyCat.org.