Bird watchers and backyard feeder fillers will love the birds featured in this personal check series. All the favorite little winged visitors are included (robins, cardinals, blue birds, and goldfinches). Each check design features a different birdhouse hanging down from the top beside your name and the backgrounds each represent the a different season: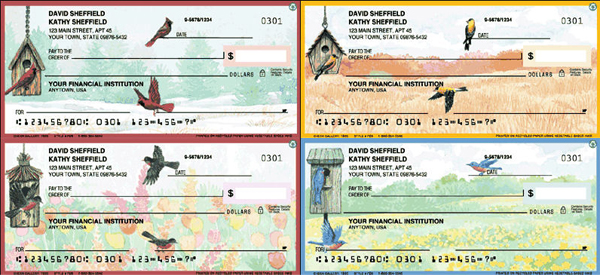 Winter Cardinals – Fall Finches – Spring Robins – Summer Blue Birds
Backyard Birds Checkbook Cover

The beautiful sky blue leather checkbook cover features all four birds in flight and perched on and around all four bird houses. Well made with enough room for your checks, the register, ID, photos, and more.
Backyard Birds Address Labels

Just like the checks and checkbook cover, the address labels also feature cardinals, robins, goldfinches, and blue birds. Bound in books and sold in sets of 200, they offer up to four lines of personalization space.