Featuring little farm hands and barnyard animals, these beautifully illustrated checks feature the artwork of Donald Zolan. Four distinct designs full of children, animal friends, tractors, and life on the farm: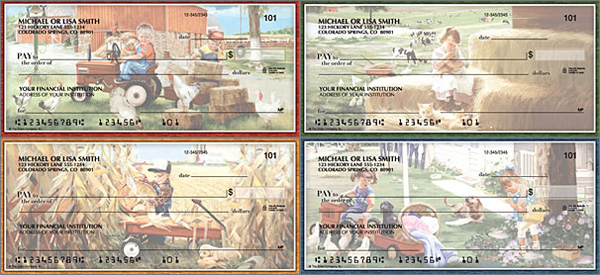 Matching Barnyard Buddies Address Labels

Sets of 210 sheeted, self-sticking labels; size 2 1/2″ x 7/8″.
Matching Barnyard Buddies Checkbook Cover

Barn red full grain leather checkbook cover with debossed accents and a full color image of the Tractor Ride by artist Donald Zolan.
Donald Zolan, recognized as America's Premier Children's artist for his heartwarming paintings of children, captures the joy and wonder of early childhood with an unmistakable energy and uninhibited naturalness that clearly belongs to our time. Learn more about the artist at zolan.com