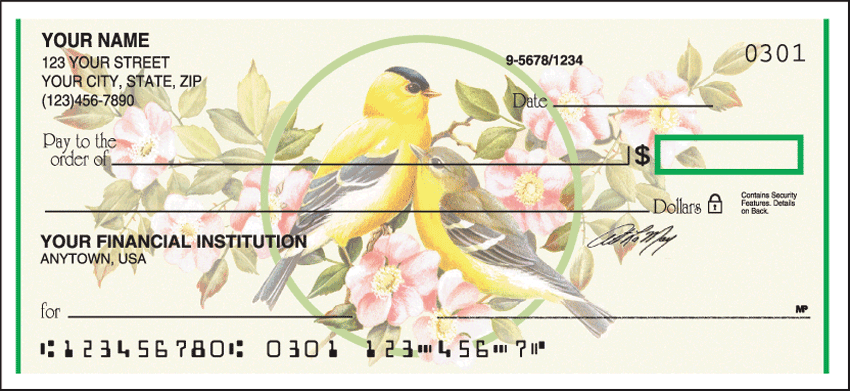 Robins, Finches, Chickadees, and Cardinals . . . this check series features the beautiful artwork of Art LaMay, who is able to capture his subjects and their natural settings in such detail that it's almost a shame not to frame these. Each of these songbirds appear in pairs, perched on beautiful blooming branches. These checks are available in traditional style (single or double) and in top stub format.
Matching Checkbook Cover
Beautifully designed Birds & Blossoms Fabric Checkbook Cover includes inside pockets to hold your checks, check register and receipts in addition to multiple slots for your ID credit cards and photos.
Matching Address Labels
Birds & Blossoms Address Labels make quick work of addressing mail and offer a great way to personalize your items. No matter how you use them, you'll love these conveniently bound address labels. Actual label size: 1-3/4 x 1-1/8 inches with up to three lines of personalization.
---
Art is for the birds! Literally. Watercolor artist Art LaMay is known for his ability to capture nature in all it's beauty in life-like reality that features the subjects in their natural surroundings. From songbirds to waterfowl to sand and sea, his artwork has won numerous awards and has earned him his own wing in the Ward Foundation Museum in Maryland. See more of his work at Art LaMay Studio.