Colorful birds perched above their lush landscapes. From parakeets to parrots, from cockatiels to cockatoos, these creatures bring incomparable, tropical beauty and personality to each and every check. A series of four designs featuring these four feathered friends: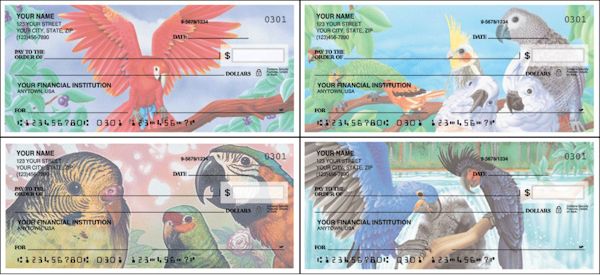 Matching Fabric Checkbook Cover

Stay organized and safeguard your checks with the Birds of Paradise Fabric Checkbook Cover. This designer checkbook cover includes inside pockets to hold your checks, check register and receipts in addition to multiple slots for your ID credit cards and photos.
Matching Address Labels

Birds of Paradise Address Labels make quick work of addressing mail and offer a great way to personalize your items. No matter how you use them, you'll love these conveniently bound address labels. Actual label size: 1-3/4 x 1-1/8 inches with up to three lines of personalization.