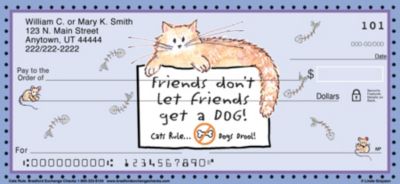 Love frisky felines? Let this personal check design, where adorable cats tell you like it is, grace your checkbook with spunky attitude. Featuring the artwork of acclaimed artist, Linda Grayson, the four whimsical designs – each a different 'talking' tabby spouting a witty cat-ism – are fun to share.
Matching 'Cats Rule' Address Labels


Make Your Mailing Projects the Cat's Meow with These Cats Rule Address Labels – Now all your mailing envelopes, holiday cards and more can show your love of cats with these Cats Rule address labels. These colorful mailing labels come in four different designs each featuring unique artwork by acclaimed artist Linda Grayson. Plus, you'll find these Cats Rule mailing labels are practical and make projects speedy. They're perfect for hundreds of jobs, so start spreading some smiles with these adorable Cats Rule labels
Matching 'Cats Rule' Checkbook Cover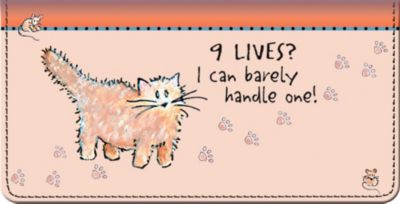 Celebrate Your Frisky Feline Friends with this Cats Rule Checkbook Cover – Your cat adds so much love and enjoyment to your life every day. Now you can take that love with you when you use this colorful Cats Rule checkbook cover. Leather cover features the artwork of acclaimed artist Linda Grayson with an orange tabby and the words, 9 Lives? I can barely handle one! The art is set against an orange and tan background with paw prints. This Cats Rule checkbook cover is custom designed to coordinate with our Cats Rule personal check designs. This Cats Rule checkbook cover is handcrafted of genuine, full-grain leather. High-quality features include premium nylon thread stitching and fabric lining. This genuine leather checkbook cover also includes a clear duplicate check divider, slip-in personal check pocket, and a second pocket to hold cash or receipts.
California artist and owner of Printwick Papers, Linda Grayson, produces stunning artwork in paintings and drawings that often evokes a reverence for earth, its flowers, and its children. An author/illustrator of 3 children's books, she's an avid gardener, horsewoman, and a devoted wife and mother. Learn more about her at LindaGrayson.com.