Who doesn't love Garfield? The tabby cat who can't get enough lasagna brings some of his favorite one-liners to this personal check series honoring the 80's Garfield character. Four different designs from cartoonist, Jim Davis, bring classic Garfield to life on pastel backgrounds.
Matching Classic Garfield Checkbook Cover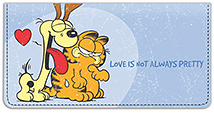 This classic Garfield checkbook cover features our favorite orange tabby and a bonus – Odie. The perfect pair of characters from the creative genius of Jim Davis featured on a leather checkbook helps bring humor to paying bills. Love is not always pretty, but Garfield and Odie definitely bring smiles.
Matching Classic Garfield Address Labels