Whether they're toppling over potted plants, sleeping near a ball of yarn or peeking up at you, the kittens featured in this photo design check series captures the essence of kitten-hood. Cute and cuddly, curious and captivating. With these kittens charming your checkbook, you'll smile even when paying the bills.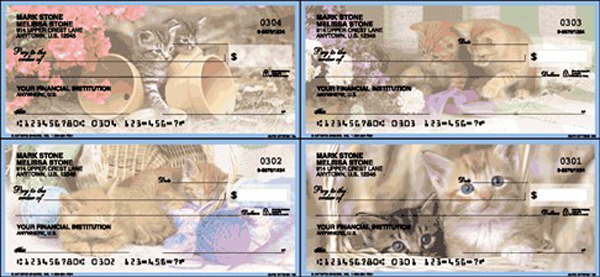 Matching Kittens Address Labels

Actual label size is 2 5/8″ x 5/8″, with up to 4 lines for your personal information above four cute kitten designs that match the check series above. Self-adhesive address labels are conveniently bound in books, just like your checkbook, so you can have them on hand whenever you need them.
Matching Kittens Checkbook Cover

Quality-crafted leather checkbook cover provides room for your checks and register along with inside pockets for ID, credit cards, receipts and more.
Matching Kittens Contact Cards

Actual card size: 3.5″ x 2″. Personal Cards are a handy reference for family, friends, and coworkers to stay in touch with you. With up to six lines available for your personal contact information, these cute kitten personal cards are sold in sets of 150.