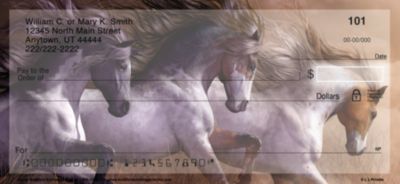 Featuring the awe-inspiring work of Laurie Prindle, these horse checks feature four beautiful scenes of horses with majestic manes. You'll find them just as practical as they are artistically appealing.
The natural beauty of free-spirited horses invokes the spirit and moves the soul. Horse lovers are more than likely already familiar with Laurie's magnificent artwork, and this check series allows you to share that love and respect for horses with others every time you use these stunning, Laurie Prindle horse checks. These four breathtaking designs feature images of free-spirited wild horses: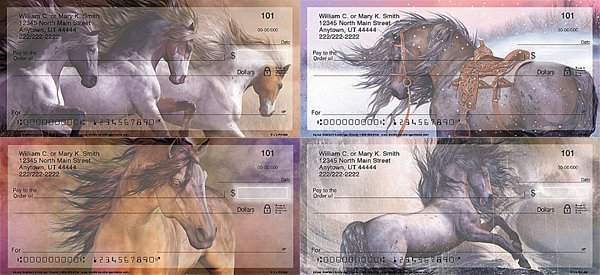 Run to Freedom | A Winter's Encounter
"Belleza Fiero" | Storm Front
Matching Equine Checkbook Cover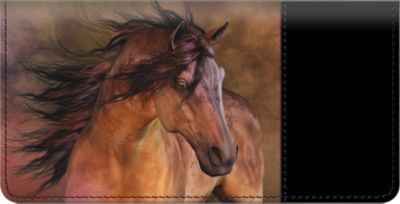 This matching, hand-crafted, leather checkbook cover is the perfect compliment to the Equus check series. Featuring "Bella Fiero" artwork from famed artist Laurie Prindle, the cover features the same brown horse print on a black checkbook background. Made with genuine, full-grain leather it features premium nylon thread stitching, fabric lining, a clear duplicate check divider, slip-in personal check pocket, and a second pocket to hold cash or receipts.
Matching Equine Address Labels
Featuring the same four design images from the check series, these address labels are a beauty to behold. The background features each of the Laurie Prindle prints with your personal information inside a white box set to the right of the self-sticking label.
Learn more about Laurie Prindle at llprindle.com