Against lush tropical rainforest backgrounds, these frogs prove that the richest colors and most interesting patterns originate in nature. This design is available in single and duplicate check formats. Matching address labels, contact cards and leather checkbook covers are also available.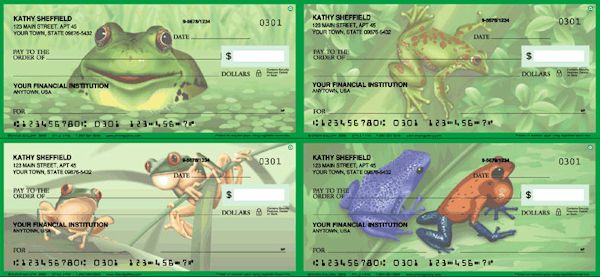 Matching Frogs Address Labels

You'll benefit from the convenience of our self-adhesive Frogs Return Labels. Conveniently bound in books, just like your checkbook, our return address labels are sold in sets of 200 and offer up to 4 lines of personalization.
Matching Frogs Checkbook Cover

This high-quality personal checkbook cover will accommodate your favorite checks with pockets for your check register ID photos and more.
Matching Frogs Contact Cards

Frogs Contact Cards offer a handy way for family, friends, classmates and coworkers to stay in touch with you. With up to six lines for your personal information, Contact Cards are sold in sets of 150 and measure 3.5″ x 2″.