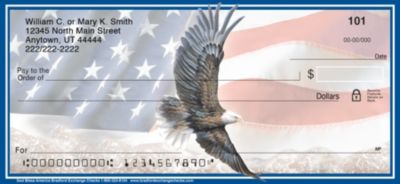 A perfect patriotic personal check featuring the Bald Eagle and the American flag with so many matching accessories you'll have to see it to believe it. Two of the most revered symbols of American virtues, the American bald eagle and the US flag, as envisioned by artist Larry K. Martin is an artistically inspired testament of your love for America, the Land of the Free: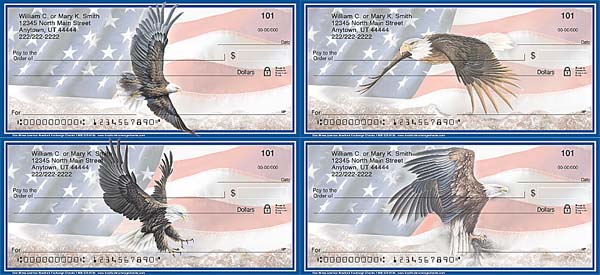 The checks are actually available in top-tear, side-tear, top-stub, and home desk formats!
Matching Checkbook Cover
This check series has a LOT of accessories, starting with this leather checkbook cover. It features the same eagle artwork by Larry K. Martin and is handcrafted of genuine, full-grain leather.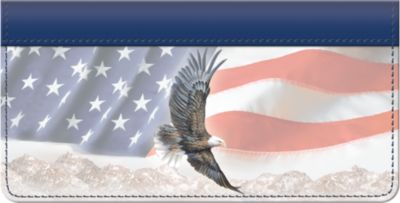 The patriotic American eagle and flag artwork is accented by nylon thread stitching and a fabric lining. The cover has a clear duplicate check divider, a slip-in check pocket, and a second pocket for cash or receipts.
There are several more matching accessories including the usual address labels, but also offers a really nice zippered wallet/checkbook cover, a debit wallet, and even stunning notecards!
Matching Address Labels

Matching Notecards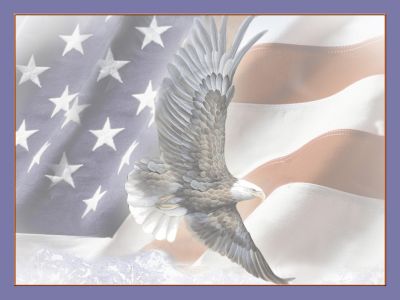 The folded notecards are blank inside and the outside features the majestic eagle portrait by acclaimed artist Larry K. Martin, soaring proudly above a rippling American flag background. The notecards measure 3-1/2 H x 5 W, and they arrive 12 per box, along with 12 white envelopes in a tuck box. All you have to do is add your personal message inside.
---
In 1976 Larry K. Martin returned home to Anniston, Alabama from a career in Tropical Medicine to pursue another lifelong ambition – Wildlife Art. After three years as Curator of the Anniston Museum of Natural History he began publishing his wildlife paintings through Wren's Nest Gallery, Inc. Since then, more than 250 of his paintings have been issued as print editions. His original paintings and prints can be found in major corporate and private collections, including those of President George H. W. Bush, Vice President Dick Cheney, Bob Hope, Arnold Schwarzenegger, Lee Greenwood and Generals Colin Powell and Norman Schwarzkopf. His works have hung in both Houses of The U.S. Congress, the National Wildlife Federation, and the Audubon Naturalist Society, as well as in governmental offices in his home state, including the office of Governor Bob Riley. Learn more about Larry K. Martin at his website, The Wren's Nest.