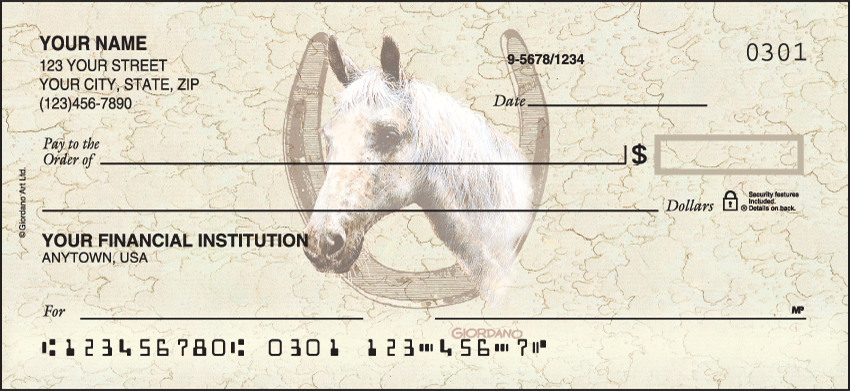 This horse check series features four beautiful equestrian head portraits with a simple horseshoe and marbled background. From the singles to the pairs, each one features the gorgeous artwork of illustrator Bob Giordano (and you can see his name right below the signature line). These horse head checks are so pretty you'll be tempted to frame them. They're available in singles, doubles, and even top-stub format.
Matching Horses Checkbook Cover
Stay organized and safeguard your pretty new checks with a fabric checkbook cover that features the same Giordano horses to compliment your checks. This designer cover includes inside pockets to hold your checks, check register, and receipts in addition to multiple slots for your ID, credit cards, and photos.
Matching Horses Address Labels
Address labels are handy for including your return address on mail, but they're also a great way to personalize items that you'd like to have returned. No matter how you choose to use them, these horse labels come bound in sets of 150. The actual label size is 1-3/4 x 1-1/8 inches and can include up to three lines of personalization.
---
If you're a fan of the horse artwork featured on these checks, be sure to see more of Bob Giordano's work. His father, a a skilled and accomplished illustrator and artist, established his art licensing business in 1980. After attending the School of Visual Arts in NY, Bob focused on illustrating children's books and joined the family licensing business in 1984. From puppies and kittens to horses, birds, and other wildlife, his fondness for the natural world is easily seen in every illustration. See more on Facebook, Instagram, and GiordanoStudios.com.