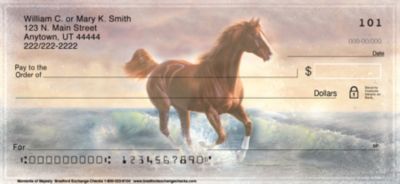 Powerful stallions charge along the turbulent shores of a rolling sea, their muscled limbs reaching across crashing waves in perfect tempo. Now, the untamed power of the wild horse and the surging sea is harnessed in this extraordinary designer horse check collection!
Famed wildlife artist and horse lover, Chuck DeHaan, captures every nuance of a wild horse's rippling muscles, flashing hooves, and free, exuberant spirit. Powerful, beautiful and alive with the glorious thrill of running with the sea spray in their flying manes, these horse checks may make you pause and catch your breath at the sheer beauty, majesty and spirit thundering in the horse's great heart.
Carry these exclusive designer horse checks with you and feel your spirit run free with the pounding rhythm of horse and surf.
Moments of Majesty Checkbook Cover
If you love the untamed spirit of wild horses, you'll love this genuine leather checkbook cover which features the wild horse masterpiece by Chuck DeHaan.

Moments of Majesty Return Address Labels
Enhance Your Envelopes with personalized address labels showcasing exclusive and majestic wild horse artwork by acclaimed wildlife artist Chuck DeHaan. Conveniently self-sticking, these personalized address labels have hundreds of uses.