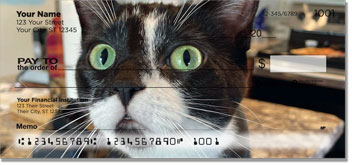 Every cat owner knows time spent with cats is never wasted! Enjoy the quiet confidence of this personal check series devoted to the pet cat every time you see your checkbook. This series features two pairs of cuddly cats, a single profile cat, and a black cat with piercing yellow eyes. With four distinct designs depicting the lives of pet cats, these personal checks are the cat's meow: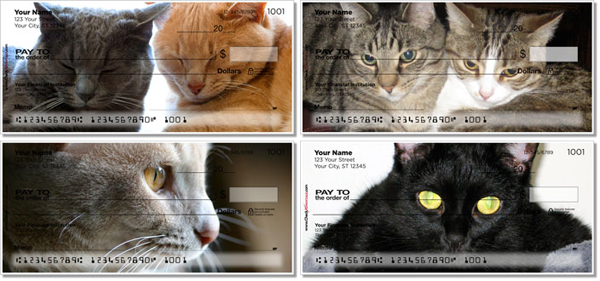 Matching Cat Checkbook Cover & Address Labels
The matching checkbook cover features the first design in the series but with a beautiful blue background. You get to choose cloth or leather and each comes with a writing shield for use with duplicate checks and inserts for credit cards, debit cards, ID, or whatever you need to have handy.
The same fabulous four feline photos sit atop your personal information on the matching return address labels.