Celebrate the proud nature of the rooster with artwork by Lisa Audit elegantly captured on the four designs featured in this check series. From the multi-colored plumage to the distinct crown, roosters are illustrated beautifully on these four vintage pastel background designs in green, gold, pink, and blue: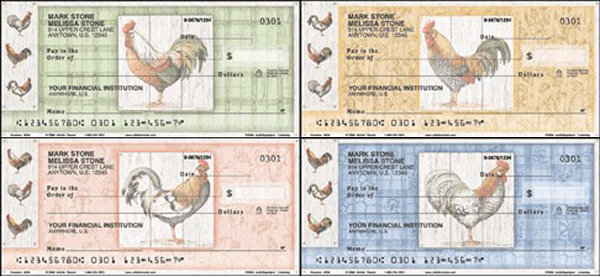 © Lisa Audit/Applejack Art Partners
Roosters Address Labels

Self-adhesive rooster labels are conveniently bound in books so you can have them on hand whenever you need them. Actual label size is 2 5/8″ x 5/8″, with up to 4 lines for your personal information.
© Lisa Audit/Applejack Art Partners
Roosters Checkbook Cover

The quality-crafted matching checkbook cover features a single rooster profile, front and center, on a gradually-shaded, country green background. The inside pockets provide enough space for your checks, the register, your ID, credit cards, and more.
© Lisa Audit/Applejack Art Partners
Lisa Audit is a Canadian artist born and raised in Marbleton, Quebec. Her art can be found printed on different decorative household items and framed reproductions. Lisa paints mostly with oils on canvas but also works in acrylics and pen & ink. Lisa has been working for the last twenty years from her spacious studio in her home. Learn more and see more artwork at LisaAudit.com.