English saddle riding enthusiasts know that horses have a natural athletic ability and a willingness to perform. Saddle up and feel the power of your steady steed as you fly over every obstacle. Take first prize when you use these personal checks showcasing the excitement of the sport featuring feature athletes jumping and competing on horses along with a corner cut horseshoe image beside your personal info.
From verticals and spreads to double and triple combinations, gallop into victory with these exciting equestrian checks featuring four photographs from competitive horse shows.
Matching Checkbook Cover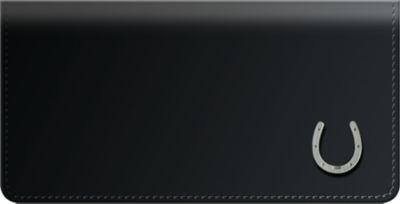 Show off your passion for the sport with a genuine leather equestrian checkbook cover that features a gleaming metal horseshoe embellishment on a black background. Custom designed to coordinate with the personal check designs above, this striking checkbook cover is handcrafted out of full-grain leather. High-quality features include premium nylon thread stitching, fabric lining, a clear duplicate check divider, slip-in personal check pocket, and a second pocket to hold cash or receipts.
Matching Address Label

Finish strong with these prize winning show jumping equestrian labels that showcase the same four images above along with your personal information.
For more information about Show Jumping and other equestrian sports and events, check out the U.S. Equestrian Federation at usef.org, a national organization dedicated to the promotion of equestrian sport, fair competition and equine welfare regardless of breed or discipline.