Pretty in pastels, these aqua-inspired checks feature color fish swimming on backgrounds of ocean greens and blues. Features angel fish and clown fish among the other salt water fin favorites. They're also available in side tear format.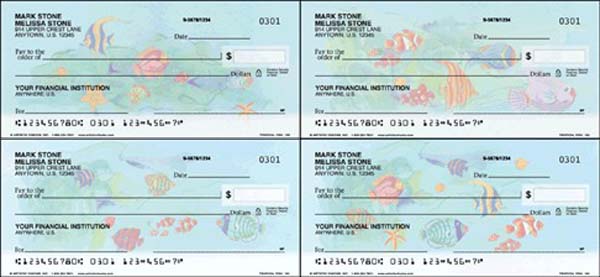 Matching Tropical Fish Address Labels
With up to 4 lines available for your name and address, actual label size is 2 5/8″ x 5/8″. Self-adhesive address labels come bound in books for convenience.
Matching Tropical Fish Checkbook Covers
Fabric or wallet style, these checkbook covers feature a Queen Angel in her natural habitat. Complement your personal checks with matching imagery of the deep blue sea. The fabric cover accommodates your checks and features pockets for your check register, ID, photos, and more. The wallet style accommodates even more including pockets for credit cards and receipts as well.
Fabric

Wallet Style

Matching Tropical Fish Contact Cards

Just like business cards give your business contacts your work information, personal contact cards are a handy reference for family, friends, and even coworkers to stay in touch with you. These contact cards feature beautiful tropical fish above and below your information on a sea blue background.
With up to six lines available for your custom information of your choice, personal cards are sold in sets of 150. These cards are handy for sharing all of your personal contact info with friends and family.
Make sure you include your name, but you might also want to give your friends easy access to your address, home phone number, personal email address, social profiles, or even a personal motto or favorite quote.
Actual card size: 3.5″ x 2″.