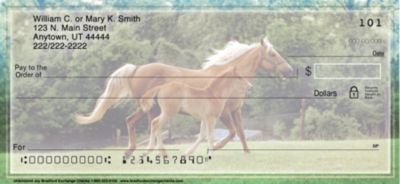 The spirit of freedom runs wild in the hearts of horses as mares and foals bond. Join them and celebrate the Unbridled Joy of life with these handsome horse checks – four designs showcase stunning photography of mother horses and their rambunctious colts and fillies, exploring the natural world around them and experiencing the simple joys of running through meadows of green grass and wildflowers.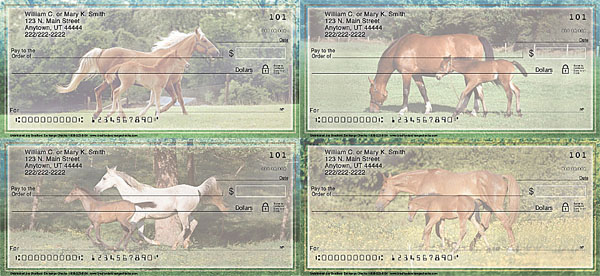 Let your imagination run wild in the wind with these exhilarating horse checks!
Matching Checkbook Cover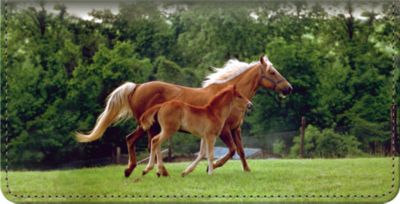 If you love horses, you'll love the sight of this designer checkbook cover that coordinates with the horse checks above. Who knew writing checks could make you feel so good. Handcrafted in genuine, full-grain leather with premium nylon thread stitching and fabric lining. Other features include a clear duplicate check divider, a slip-in personal check pocket, and a second pocket to hold cash or receipts.
Matching Address Labels


Set your spirit free with these unbridled joy address labels. Four different, personalized return address label designs showcase heartwarming portraits of mother horses and their babies, each enjoying the freedom of green sunlit meadows and the pure delight of living. As practical as they are pretty, these conveniently self-sticking labels are sure to please.