A symbol of purity and grace, the unicorn from European folklore resembles a white horse with a long, pointed, spiral horn on its forehead. These legendary, wild woodland creatures are illustrated beautifully among fantastic flora surroundings on this check series with unicorn artwork by Ruth Sanderson. Take a mythical and magical journey with these exquisite designs. Unicorns ©Ruth Sanderson. All Rights Reserved.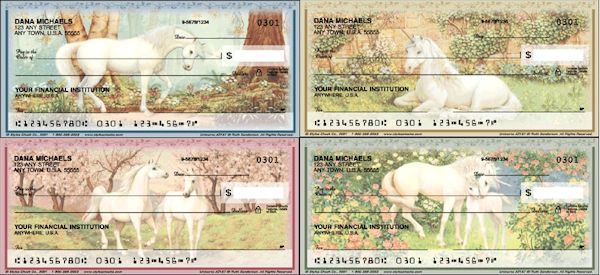 Matching Unicorn Address Labels

Unicorns Address Labels make quick work of addressing mail and offer a great way to personalize your items. No matter how you use them, you'll love these conveniently bound address labels. Actual label size: 1-3/4 x 1-1/8 inches with up to three lines of personalization.
Matching Unicorn Checkbook Cover

Stay organized and safeguard your checks with the Unicorns Leather Checkbook Cover designed to complement your Styles checks. This designer checkbook cover includes inside pockets to hold your checks check register and receipts in addition to multiple slots for your ID credit cards and photos.
Matching Unicorn Contact Cards

Bring your personal touch to social and professional connections with Unicorns Contact Cards.
These high-quality Contact Cards have a premium glossy finish with space for up to 6 lines of personal information. Available in sets of 150.
Make sure you include your name, but you might also want to give your friends easy access to your address, home phone number, personal email address, social profiles, or even a personal motto or favorite quote.