A moose on the edge of a lake, a herd of deer in the meadow, a grizzly bear at the edge of the woods, and two adorable raccoons all come together to make this wildlife check series a tribute to the great outdoors. This personal check series is also available in top-stub format. Very convenient.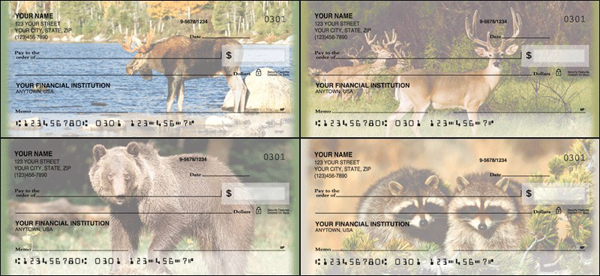 Matching Wildlife Address Labels
Matching address labels feature the same four scenes rendered atop your personal information. Make quick work of addressing mail or marking personal property. No matter how you use them, you'll love the convenience and beauty of these bound address labels. Actual label size: 1-3/4 x 1-1/8 inches with up to three lines of personalization.
Matching Wildlife Checkbook Cover
A beautiful compliment to the check series, this leather checkbook cover features a big brown bear in a meadow on the edge of the woods. Stay organized in wild style with inside pockets that hold your checks and check register as well as receipts. There are also multiple slots for your ID, credit cards, and/or photos.
The checkbook cover image ©DenverBryan.com. Learn more about wildlife biologist turned photographer Denver Bryan at www.DenverBryan.com