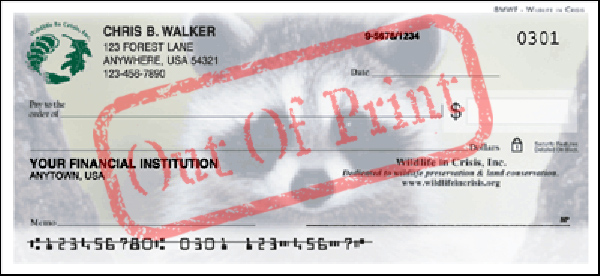 This single-image check series in support of "Wildlife in Crisis" is no longer available from Message Products.
You Might Want to Consider

Wildlife in Crisis (WIC) is a non-profit organization founded in 1989, dedicated to wildlife preservation and land conservation. WIC rescues injured and orphaned wildlife, and seeks to protect threatened ecosystems. WIC's habitat protection, wildlife rehabilitation, and environmental education programs share the goals of protecting wildlife while improving the quality of life in our communities. This check design features a cute closeup of a raccoon in nature.
At WIC, the emphasis is on emergency medical care and temporary housing for injured and orphaned animals—not on keeping releasable animals in cages for public display. For more information about Wildlife in Crisis visit WildLifeInCrisis.org.