Life's a beach for the cute little Westie Terrier pup swimming in the surf and playing on the sand. "Pup" artist Kim Niles is well known for her lovingly drawn pencil and ink animals and this check series doesn't disappoint. It features her well-known renderings of a West Highland White Terrier, a Scottish breed of dog known for their snow white coat and perky personality.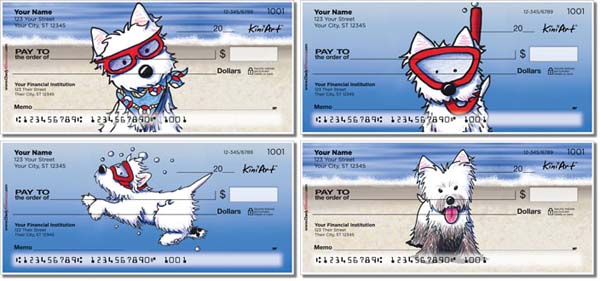 Copyright © by Kim Niles, KiniArt™
Matching Beach Dog Checkbook Cover
It's hard not to fall in love with Kim Niles' artwork – and with Westies in general!

Matching Beach Dog Address Labels
The address labels feature the same four designs as the check series.

Kim Niles is a talented artist, designer, and children's book author (and illustrator) who also happens to be a wife, a mom, and a grandma who shares her animal-loving, day-dreaming spirit through her artwork. You can learn more about Kim and "KiniArt™" at IslandIllusions.com. And if you love the adorable dog featured in the check series and accessories above, there are also children's books!