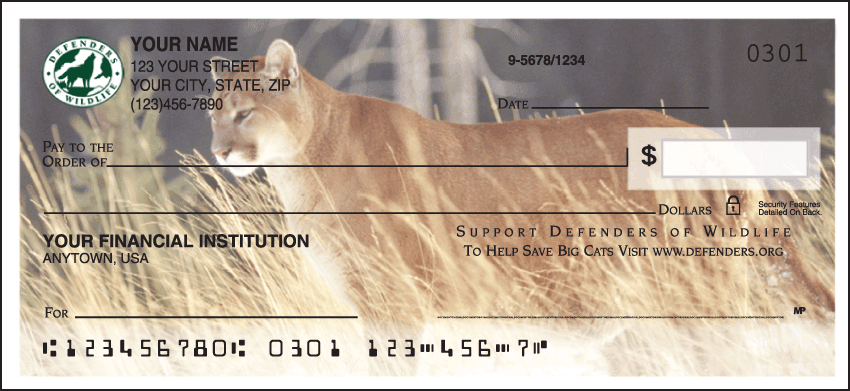 A jaguar in the grass looking as if it's about to pounce, on ocelot on the prowl, a mountain lion camouflaged in the tall grass, and a bobcat on the move. These North American wildcats are solitary and stealthy as they search for prey. Celebrate their beauty and their natural instincts with this four-photo photographic check series featuring big cats in their natural surroundings. The Defenders of Wildlife® logo sits right next to your personal information with a call to Support Defenders of Wildlife to Help Save Big Cats sitting right above your signature line.
Matching 'Big Cats' Address Labels
Personalize these Defenders of Wildlife Big Cats address labels with up to 4 lines of personalized information. They come in sets of 200 and are bound in books.
Matching 'Big Cats' Checkbook Cover
The Defenders of Wildlife® leather checkbook cover features a magnificent jaguar photo and will accommodate your big cat checks with pockets for your check register ID photos and more.
---
Defenders of Wildlife leads the pack when it comes to protecting wild animals and plants in their natural communities. To help save big cats visit Defenders.org.
Robert Winslow is Professional Photographer specializing in wildlife, conservation, environment and travel. Learn more about him at RobertWinslowPhoto.com.
Michele Burgess is a well-known professional travel and wildlife photographer whose work is published both nationally and internationally. Learn more about her at her website or her tour company, InFocusTravel.com.