These Dolphins designs showcase dolphins' strength and grace against a background of vivid seas. The Defenders Dolphins series features checks, address labels, a contact card and a matching leather checkbook cover. The Check Gallery proudly supports Defenders' efforts to protect all native wild animals and plants in their natural communities.
Celebrate the beauty of dolphins with this four-photo photographic check series featuring dolphins at their most playful best creating the ocean waters. The colorful Defenders of Wildlife® logo sits right next to your personal information with a call to Support Defenders of Wildlife to Help Save Dolphins sitting right above your signature line.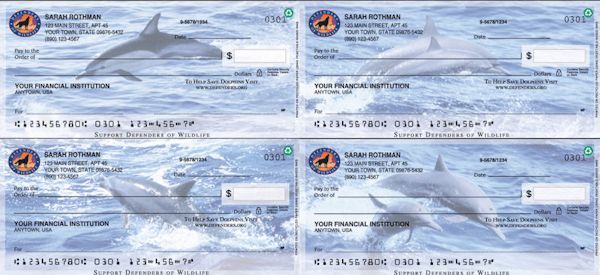 Matching Dolphins Address Labels
You'll benefit from the convenience of these self-adhesive Dolphins Return Labels. Conveniently bound in books, just like your checkbook, the return address labels are sold in sets of 200 and offer up to 4 lines of personalization.
---
Defenders of Wildlife leads the pack when it comes to protecting wild animals and plants in their natural communities. To help save Dolphins visit Defenders.org.