From the first moment your poodle looked at you with those loving eyes, you knew that there would always be a special place reserved in your heart for your faithful friend. Showcase your love for your pooch with this darling poodle check design featuring a close-up portrait of a curious little poodle with the heartwarming sentiment, You look at me with eyes of love.
Matching Poodle Address Labels


Brimming with poodle personality, these address labels pay tribute to one of the most intelligent of canine breeds by pairing your personal information with the charming portrait of the popular poodle. It also features the "eyes of love" sentiment, just like the check.
Matching Poodle Checkbook Cover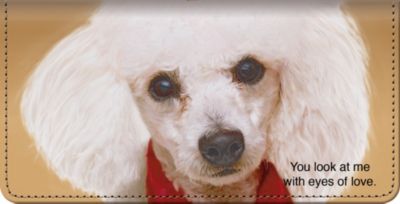 Complete your poodle checks with a matching checkbook cover that features the same adorable poodle image from the checks and labels. And the same "eyes of love" sentiment, too. Handcrafted of genuine, full-grain leather, the high-quality features include premium nylon thread stitching and fabric lining. The cover also includes a clear duplicate check divider, slip-in personal check pocket, and a second pocket to hold cash or receipts.