This check series featured 4 different designs depicting farm animals in beautiful pasture settings.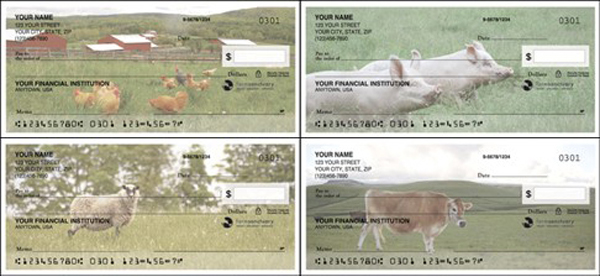 UPDATE: This check series is no longer being offered. Message!Products has joined the Checks Unlimited family!
Checks Unlimited is a great source for spreading awareness with cause-based check designs, as well as other socially conscious, fun and meaningful designs. While Farm Sanctuary checks are no longer being printed, we recommend their other Charitable Checks!
Farm Sanctuary is a national, non-profit organization dedicated to changing the way society views and treats farm animals. Since Farm Sanctuary began in 1986, they have worked to expose and stop the cruel practices of the "food animal" industry through undercover investigations, legal and legislative actions, public awareness projects, youth education and outreach programs, and direct rescue and refuge efforts. Farm Sanctuary is the nation's leading voice for farm animals … thanks to people who care enough to become Farm Sanctuary members. To learn more about FarmSanctuary, visit
FarmSanctuary.org.