Enjoy the sweet and silly antics of man's best friend. It's true that walking around while wearing a bag on your head can be considered a sport… as long as you're a dog.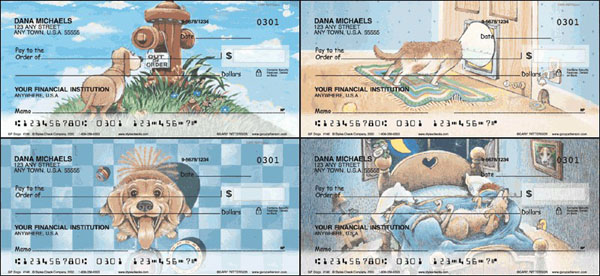 © Gary Patterson. All Rights Reserved.
Gary Patterson Dogs Address Labels

Gary Patterson Dogs Address Labels make quick work of addressing mail and offer a great way to personalize your items. No matter how you use them, you'll love these conveniently bound address labels. Actual label size: 1-3/4 x 1-1/8 inches with up to three lines of personalization.
Gary Patterson Dogs Checkbook Cover

Stay organized and safeguard your checks with the Gary Patterson Dogs Leather Checkbook Cover designed to complement your personal checks. This designer checkbook cover includes inside pockets to hold your checks check register and receipts in addition to multiple slots for your ID, credit cards, and photos.
Gary Patterson Dogs Debit Wallet

The silly antics of man's best friend at his finest. Order your Gary Patterson Dogs debit wallet today! This handy compact debit wallet includes: 4 debit registers – enough for 650 transactions; free miniature pen; protective outer slot for your I.D.; interior slots for multiple credit cards.
Gary Patterson Dogs Contact Cards
Bring your personal touch to social and professional connections with Gary Patterson Dogs Contact Cards.
These high-quality Contact Cards have a premium glossy finish with space for up to 6 lines of personal information. Available in sets of 150.
Make sure you include your name, but you might also want to give your friends easy access to your address, home phone number, personal email address, social profiles, or even a personal motto or favorite quote.