This check series features the American Bald Eagle in all it's glory. Perhaps the most recognizable of all birds, with dark brown wings and body accentuated by bright white head and tail. A large, predatory bird with yellow feet and bill, the symbol of an eagle is featured on the back of the quarter and grasping an olive branch and arrows on the one dollar bill.
Whether soaring over scenic vistas or stealthily searching for prey, these majestic Eagles will bring grace and beauty to your checkbook. This design is available in single and duplicate check formats featuring the following four photographic designs: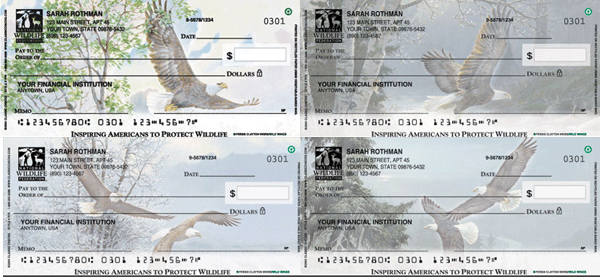 National Wildlife Federation Eagles Address Labels

You'll benefit from the convenience of our self-adhesive National Wildlife Federation® Eagles Return Labels. Conveniently bound in books, just like your checkbook, our return address labels are sold in sets of 200 and offer up to 4 lines of personalization.
National Wildlife Federation© is a voice for wildlife, dedicated to protecting wildlife and habitat and inspiring the future generation of conservationists. To learn more about the NWF and its conservation efforts visit www.nwf.org.